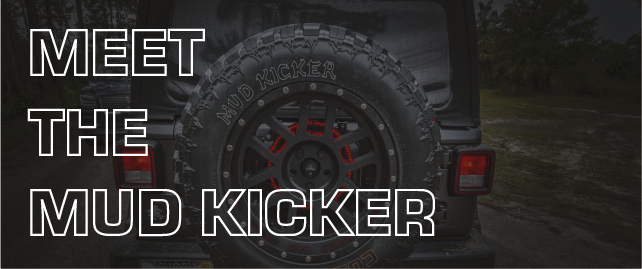 I knew we had a special product in terms of design and performance considering all the time, effort and R&D we put in the development of the Cosmo Mud Kicker. But until you actually get them on on a 4X4 and take them out on the road, mud and sand - you always have the curiosity of, what did we actually create?
The first 4 production Cosmo Mud Kickers got put to the test, in the real world, a few days ago during our Cosmo photo/video shoot in West Palm Beach, Florida. I was so impressed with what we have achieved.
I have always had Major Brand off-road tires on my Jeep and the Mud Kicker actually ran quieter on the highway, at speeds of 75 mph, than tires that cost 3 times as much. The balance was also perfect, considering they required very little weight to balance, I felt no vibration at high speed.
When we hit the mud and sand I was equally impressed, the grip in deep mud and soft sand was everything you would expect from a much higher priced major brand tire. I pushed the tires to their limits and from 3 foot deep mud to soft powder sand, the tires gripped and clawed keeping me in control of where I wanted to go.
And on top of all this - the Mud Kicker looks the part - it's block tread pattern and patented shoulder design enhanced by the first of its kind bead grip give the Mud Kicker an aggressive, tough appearance that makes my Jeep look the part......no wonder this is the first tire to carry a "Mud Rated" designation.
Mud Kickers are ready to hit the Mud anytime!
LEGAL DISCLAIMER
While Tire Group International, LLC. ("TGI"), makes every effort to present accurate and reliable information on this Web Site and Blog, TGI does not endorse, approve, or certify such information, including any opinions presented, nor does it guarantee the accuracy, completeness, efficacy, or timeliness of such information or opinions. Except as expressly stated, all information on this Web Site is provided without warranty of any kind, express or implied. You are solely responsible for the appropriateness of this Web Site, its content, and the products and services offered by TGI.